Funke Akindele Biography, net worth, marriage and children
This article will highlight key events surrounding Funke Akindele biography, net worth, and movie career in 2022.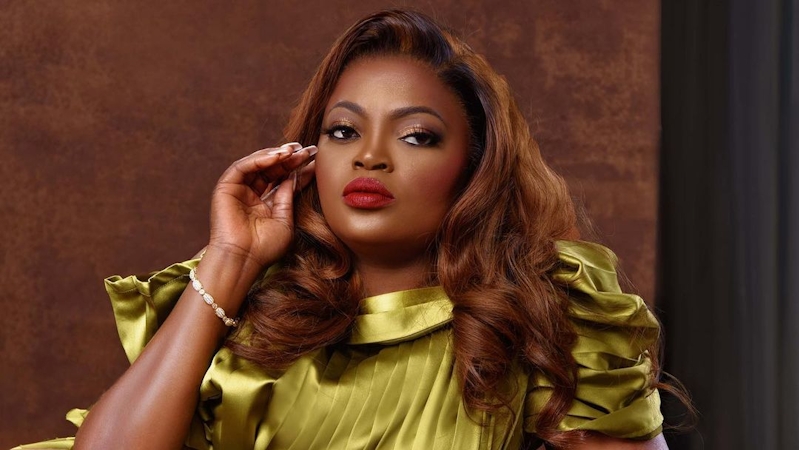 Funke Akindele has transcended beyond a household name to a movement in the Nollywood industry. She has become a citadel of success not from sheer luck but hardcore discipline, ghetto courage, and rugged consistency.
The 45-year-old has proven over time that the hall of fame and popularity is not for the faint of heart. Many recognise her as her comic character "Jenifa," while others she has mentored in the industry call her "Mrs Bello" or " Aunty Funke."
READ MORE
A filmmaker, producer, and director in 2021, Funke Akindele made a shocking N468,036,300 from her blockbuster movie "Omoghetto: The Saga," thus becoming the highest-grossing movie of all time in Nigeria, breaking the four-year record of Kemi Adetiba's movie titled 'The Wedding Party – a movie that featured popular names in the Nollywood industry like Sola Sobowale.
Here is Funke Akindele's biography – an all-inclusive profile of this phenomenal actress
Funke Akindele's biography
Olufunke Ayotunde Akindele was born to parents Mr. and Dr. Banjo Akindele on August 24, 1977 in Ikorodu, Lagos State. The second of three children, Funke Akindele attended Grace Children School, Gbagada, before moving on to get her OND from Moshood Abiola Polytechnic.
Funke Akindele further pursued a law degree from the prestigious University of Lagos.
Funke Akindele Profile

Real name/ Nickname

Akindele Ayotunde Olufunke/ Jenifa

Date of Birth

24 August 1977

Place of birth/State of origin

Ikorodu-Lagos State

Tertiary Institutions attended

Moshood Abiola Polytechnic

University of Lagos

Courses studied

Mass Communications (OND)

Bachelor of Law (LLB)

Relationship Status/ Spouse

Divorced (JJC Skillz, Kehinde Oloyede)

Children

Taiwo and Kehinde Bello (Twins)

Occupation

Actress, Movie Producer, Director and Script writer

Debut movie

I Need to Know

Years active

1998-Present

Parents

Mr and Mrs Akindele

Siblings

4
Funke Akindele's acting career
Funke Akindele's journey to stardom started with her character in the United Nations-sponsored sitcom "I Need to Know.". She played the role of a curious secondary school teenager from 1998 till 2002. The sitcom was created to increase awareness of the issues that teenagers face during puberty.
The " Jenifa" actress pushed her career further by featuring in other movie productions, especially indigenous movies.
The young and vibrant Funke Akindele struck gold when she starred in her breakthrough comedy-drama, "Jenifer, "-where she played the character of a local girl attempting to put on a fake appearance of being born with a silver spoon. The hilarious drama received accolades for highlighting the societal issues with false living.
The movie gave birth to her TV series, "Jenifa's Diary," which has become a household show in Nigeria and the diaspora. "Jenifa's Diary" has featured stars like Lota Chukwu (Kiki), comedian Lolo, Folarin Falana (Falz), and Olayode Juliana (Toyo Baby).
Nigerian actress, Funke Akindele, has recorded many successes in her acting career. In 2018, the award-winning actress was reportedly set to star in a Hollywood production, " Marvel's: Avengers Infinity War.".
The rumour was further strengthened by an IMDb listing her as a cast member. According to reports, Funke AKindele was meant to star as the guard Dora Milaje based on information on the IMDb website.
However, speculations died after Genevieve Nnaji was also cited as a cast member on the movie site. It was later discovered that the IMDb site might have been hacked.
Meanwhile, reports showed that Senate President of the National assembly, Dr Bukola Saraki, had called for the actress's feature in the Marvel Studios movie.
The 45-year-old actress made her debut as a director in 2019 with the movie "Your Excellency". Setting the bar higher, Funke Akindele co-produced her box office hit, "Omoghetto; The Saga." The movie became the highest-grossing Nollywood movie of all time after raking in more than N468 million at the box office in one month, according to the Cinema Exhibitors Association of Nigeria.
Funke Akindele's awards and achievements
In her 25 years of being an actress, movie director and scriptwriter, Funke Akindele has been a recipient of numerous awards and recognition. She recently bagged an invitation from the Academy of Motion Picture Arts and Sciences (AMPAS) to join the 2022 membership of Oscar organisers. The actress announced her latest achievement in a post on Instagram. Other awards and recognitions received by Funke Akindele include the following:
In 2009 Funke Akindele won Best Actress Leading Role for her movie "Jenifa" at the Africa Movie Academy Awards and Best Actress at the Nigeria Entertainment Awards. In 2010 she was nominated for Best Actress at Best of Nollywood for her leading role in the Yoruba movie Oguni Aiku.
By 2012 Funke Akindele had clinched two awards at the Nigeria Entertainment Awards and Nollywood Movies Awards in the Best Actress category. The Nigerian actress and political aspirant have won about 20 awards in her career.
She is a three-time winner of the Africa Magic Viewers Choice Awards (2014, 2017, and 2020)
Funke Akindele's endorsement deals
Based on her reputation as one of Nigeria's richest and most talented actresses, Funke Akindele has landed several business deals that have increased her net worth in 2022.
In 2018, the actress got the Dettol and Iroko TV ambassadorial deal- that same year, Keystone Bank. And by 2019, she became a WAW ambassador for the detergent company.
On Thursday, 12th November 2020, the "Omoghetto" star actress was announced as Molfix ambassador for the diaper brand. She is also a brand ambassador to Kelloggs Nigeria, a cereal company, and Amen estate influencer.
Funke Akindele's net worth
The award-winning actress Funke Akindele is the third richest actress in Nigeria, with an estimated net worth of about 7.6 million dollars. Based on her endorsement portfolio with international brands and proceeds from movie sales – Akindele has made a mark with her remarkable acting and impressive financial empire.
Funke Akindele's net worth in 2022 puts her in the same category list as some of Nigeria's richest actresses, such as Genevieve Nnaji, Rita Dominic, and others.
She is currently the CEO of Scene One movie productions, mentoring young and aspiring actors in the industry. Funke Akindele is a force in the Nigerian movie industry; her venture into the political space has confirmed her ability to wear multiple hats whenever the situation requires it.
Funke Akindele cars and houses
With over 20 million followers on Instagram, the Nollywood actress boast of a fleet of cars and a mansion in Amen estate. Located in Ibeju, Lekki the mansion 'Afin' as it is called based on its architectural design-is a 7-bed detached mansion that features airy terraces and casement windows.
Funke Akindele purchased her Brand New Lexus LX 570 SUV in 2021 worth a range of N16m-N70m according to sell at ease.
She purchased it after the massive success of her movie "Omoghrtto the saga. She took to Instagram to share the good news with her fans. Akindele owns other luxury cars such as:
Bentley Continental GT-N20M-N80M
Lamborghini Aventador-N100M-N250M
Toyota Prado SUV-N52.8M
Funke Akindele's marriage and divorce
First marriage to Kehinde Oloyede-
Despite Funke Akindele's resonating success in the Nollywood industry, her love life has experienced a few bumps and hits. In 2013, the filmmaker married her first husband, Kehinde Oloyede. It was a star-studded ceremony. Unfortunately, it ended as fast as it started, exactly 413 days later.
According to the actress/producer, their marriage had ended badly as Kehinde Oloyede let out the break-up bombshell via his Facebook page. In what Funke described as wanting to die feeling, the actress attested to the fact that she poured herself into her career to get over the pain of her divorce in an interview with Chude Jideonwo.
Second marriage to JJC Skillz-
However, in 2016 Funke Akindele found love again. This time in the arms of music executive and singer Abdulrasheed Bello, aka JJC Skillz, a father of three. The duo got married secretly in a quiet wedding in London. The couple settled back in Nigeria and began to work together.
They co-produced the movie Omoghetto: The saga, which became an instant hit in cinemas' first month of its release. JJC Skillz and Funke Akindele Bello welcomed their twin babies in 2018 and continued their romance.
After about six years of marriage, Funke hit the rocks as her husband, JJC Skillz, announced to the public that their marriage had ended.
According to JJC Skillz, the actress had asked him to leave her house and refused to speak with him.
He noted that their marriage was beyond repair and is seeking ways for them to co-parent and manage their joint business.
He also said the last two years" have been extremely difficult for us." And that he was announcing so that the public is clear that "we both are pursuing separate lives."
The news of their marriage crashing came after much speculations of hell in their love paradise in April.
According to JJC Skillz's son, Benito, the couple had not slept on the same bed for 2years, and it was horrible to live with Funke Akindele.
Mella, Benito's mother, and JJC Skillz's baby mama, also hinted at trouble in her baby daddy's marriage to Funke Akindele.
Although JJC Skillz at the time debunked the rumors by putting up a post about missing his wife and children, when news of their separation broke on the internet, Benito attributed it to his comments on his father's failed marriage to Funke Akindele.
Funke Akindele's controversies
At the peak of the COVID-19 pandemic, a compulsory lockdown was imposed around the globe, Nigeria inclusive in 2020. During the lockdown period, the government banned the gathering of churches, clubs, and other public locations that encourage individuals in clusters.
During this period, Funke Akindele organized a birthday bash for her beloved husband at the time, JJC Skillz. During the lockdown, the couple hosted a party at their house which sparked Twitter backlash the following day.
Following the party, the Lagos State government got the couple arrested as punishment for defying Lockdown directives.
Nigerian celebrities at the party included singer Naira Marley and other guests.
The Bellos were arraigned before the magistrate court and sentenced to 14 days of community service with a fine of N100, 000 each.
The actress has also been called out for being a terrible boss by Olayode Juliana and one staff identified only as Khassie.
According to the testimony of both parties, Funke Akindele wasn't paying as much as they liked. Khassie said she was a scriptwriter and content creator for Jenifa's diary-lamented that the actress had repeatedly abused her physically and mentally.
Although most of these claims are alleged, the actress has never come out to endorse the claims or clear the air. Instead, Funke Akindele has focused on building her career and pursuing her goals and ambitions.
Funke Akindele's Political ambition
The Nigerian star actress was nominated as the Lagos deputy governorship candidate under the umbrella of the People's Democratic Party for the upcoming 2023 election. Thus the actress now stands among celebrities that have ventured into Nigerian politics.
Funke Akindele will run for deputy governor Lagos alongside Dr Azeez Olajide Adediran (Jandor). The Nollywood actress confirmed her political ambition on Tuesday, July 12, 2022, in a thread post on Twitter.
According to the mother of two, she is greatly aware of the cost of the political assignment and prepared to make the personal sacrifice of putting " my career on hold, to serve. My resolve is that no sacrifice is too much for the good of our people and state."