Among the top 10 most prestigious universities in the world are Harvard University and the University of Oxford.
It is really difficult to choose between the two of them because one of them is an Ivy League Institute and the other is renowned for producing world leaders.
The University of Oxford performs marginally better, coming in first by THE and fourth by QS News.
As of 2021 enrollments, Harvard had 23,000 students, compared to 26,000 at Oxford. In comparison to Harvard University, which has a 16% foreign student population, the University of Oxford has a 45% international student population.
Which is Better between Oxford University and Harvard University?
Harvard University has a 5% acceptance rate, which makes it more difficult to get accepted than Oxford University, which has a 17.5% acceptance rate.
Both Oxford University and Harvard University demand IELTS scores of 6.5. A TOEFL-iBT equivalent score of 100 is allowed. With a competitive GMAT/GRE test score, both colleges admit applicants.
According to the Financial Times ranking for 2022, Harvard Business School is ranked third, whereas Saïd Business School(Oxford University Business school) is far further down the list at number 31.
However, the law schools at both institutions are in a comparable situation, with Harvard University placing first and Oxford University second in the QS WUR Rankings for Law & Legal Studies 2022.
Harvard University charges Indian students an additional 5,000 USD in annual tuition costs over Oxford University.
The cost of lodging is much higher in the US than it is in the UK. As a result, it is less expensive to enroll at Oxford University than Harvard University.
Harvard University offers better placements than Oxford University. The former is ranked fifth on QS News' 2022 Graduate Employability Ranking, while the latter is ranked sixth.
The University of Oxford receives over 443 million USD more in funding for its research initiatives than Harvard University. A pair of universities are renowned throughout the world, and for every student, being accepted into one of them is a source of pride.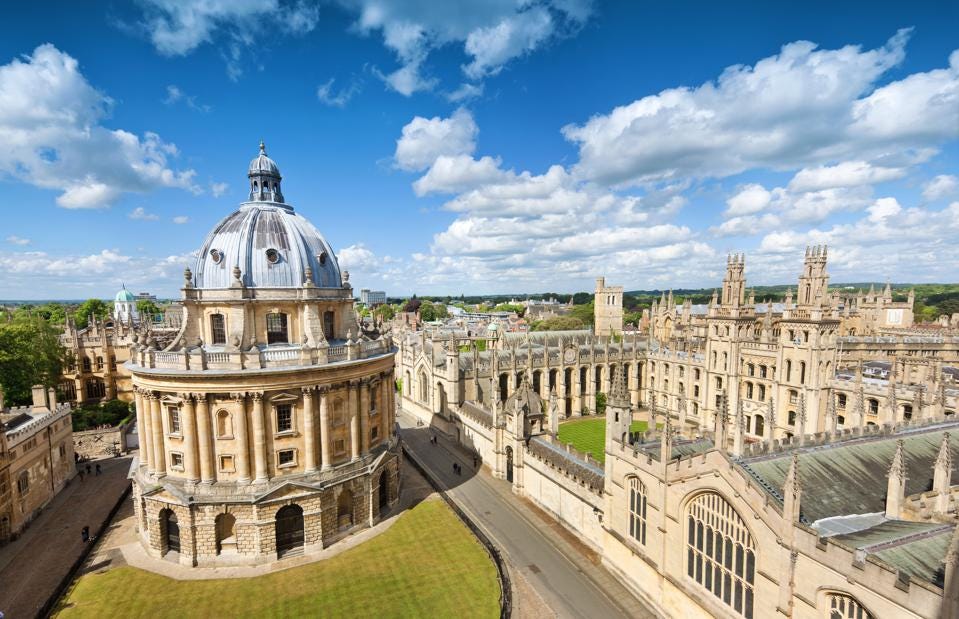 Numerous world-famous people, leaders, and inventors have graduated from both institutions. The litany of kings, emperors, prime ministers, presidents, senators, and Nobel Prize winners that have come from Oxford seems never-ending.
Other notables from Oxford include the writer T. S. Eliot, the Fulbright scholar and entrepreneur William Fulbright, the physicist and professor Stephen Hawking, and the U.S. National Security Advisor Susan Rice. Eight US presidents, author Margaret Atwood, astronomer Neil deGrasse Tyson, civil rights activist W. E. B. Du Bois, Facebook CEO Mark Zuckerberg, many Nobel Laureates, Olympic medalists, Rhodes scholars, Pulitzer Prize winners, and 188 living billionaires are among the impressive alumni of Harvard. Speaking of billionaires, both institutions of higher learning have enormous endowments.
Less than 20 students make up most classes at Harvard. In contrast, the student to instructor ratio is 7:1. Although Harvard is not a party school, students claim that the school's parties are not too horrible.
Biology
Information technology and the sciences
Languages other than English
History\Mathematics
natural sciences
Psychology
Sociological studies
Many Harvard grads work in business and finance, as was previously indicated. Many also work in the medical field, typically as doctors. Many also pursue careers as lawyers, with some eventually entering politics.
Graduates in computer science are among the highest paid, with starting yearly wages of $128,900.Numerous wealthy and influential people who attended Harvard but didn't complete their degrees exist as well. Bill Gates and Mark Zuckerberg are at the top of the list.
Indeed, Harvard University could be the nation's oldest institution of higher learning. But the University of Oxford is even older; the UK-based institution claims that it has no definite date of inception.
However, historians point out that there is proof of instruction dating all the way back to 1096. Oxford is regarded as the oldest university in the English-speaking world as a result.
The academic institution is based in Oxford, England. Although it is a private school because of its autonomy, it also receives funds from the government, which in some ways qualifies it as a public institution.
The University of Oxford lacks a main campus, unlike the majority of US schools and universities. Instead, it is made up of over 30 colleges that are dispersed across the city's core and a bit outside
Each incoming student joins a certain college before joining the whole institution. It is estimated that all colleges together cover 1,327 acres.
Oxford is not a party school, but it is located in a vibrant nightlife area where students may enjoy themselves. The prestigious university is ranked #5 by US News in 2022's list of the Best Global Universities.
According to the well-known college ranker, it is also ranked first among the best global universities in Europe and the United Kingdom. The University of Oxford is now ranked first globally in the 2022 THE World University Rankings.
The following are some of the top courses offered at Oxford:
Anthropology
Archaeology
Biology and medicine
Information technology and the sciences
History Legal research
Linguistics
Biological sciences
Conclusion
Graduates from Oxford frequently go on to careers in academia and science. Some graduates from outside the UK go on to become prime ministers and presidents of their respective nations, and many of them end up in the legal and political fields.
Some of the graduates occasionally work in the banking, financial, advertising, and public relations industries. Even though your academic profile can easily impress admissions officers at both Harvard University and the University of Oxford, it's a good idea to get to know both institutions more so that you can get an idea of what you will be getting yourself into no matter which of the two elite schools you end up choosing.
Making sure that a college is a good fit is one of the main reasons you should choose it carefully. Although it's true you can always transfer colleges should you find yourself unhappy with your initial choice, it's not really the most time- and cost-efficient option.